Stage-USA is now offering free SIM cards!
5 juni 2012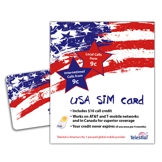 When you arrange your internship, graduation assignment, traineeship or Work & Travel in the U.S. program through Stage-USA you will get a free SIM card.
With this prepaid SIM card you can make local and international calls from your phone. Calls can be made from only 9 cents a minute. The SIM card is applicable for all unlocked GSM phones and works on AT&T and T-Mobile networks and in Canada for superior coverage.
This SIM cards is for free for Stage-USA applicants. You will receive the card via mail and can be activated once you arrive at your destination.