Intern Leadership Enrichment and Development program
2 juni 2016
Meet Jonas Linke!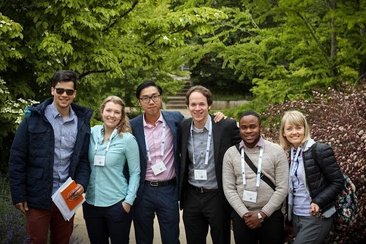 (4th from the Left)
Jonas Linke is a German student currently pursuing a Master's Degree in Business Administration at the University of Osnabrueck. He applied, through us, for a J-1 internship in the United States in International Business management and administration. He has been an intern since Febuary 2016 and his internship will end in July. He applied to the iLead program and was chosen among 59 other J-1 interns to participate.
He spent 6 days in Washington D.C. attending various workshops and activities and got to meet a lot of international students from around the world.
"The 58 participants (58 since 2 people could not take part due to visa related reasons) were from 30 different countries which led to a very intercultural group and which was simply amazing! The whole group was lovely and happy about spending these days together and exchanging with each other about our home countries, our cities and experiences in the US, our internships..."
Every morning they would all meet up and have breakfast at 7:00am and proceed with various activities and training such as: Orientation & Intercultural Training, Leadership Training, The Rule of Law, Civics 101 and Changemakers.
They would then have a lunch break to later continue with other activities. In the Evening, they would have dinner at 6:30pm and attend events such as: TED Talks, they would have Leadership activities and presentations.
"The CIEE staff deserves a lot of credit - they were very nice and very professional! Everything was coordinated very well. We had lessons in Leadership, Changemaker, Intercultural Training... There was a speaker of the Department of State as well sharing his experiences with us and talking about young Leadership".
Jonas has explained to us that he has had a great experience in participating in the Intern Leadership Enrichment and Development program:
"Saying goodbye the day after was a kind of challenging since you got used to each other and we had to realize that there are people you are likely not to see again. However each participant knows that we have made many new friends around the world. It was an overall great and valuable experience and everybody has very good memories of this time."
What is iLead?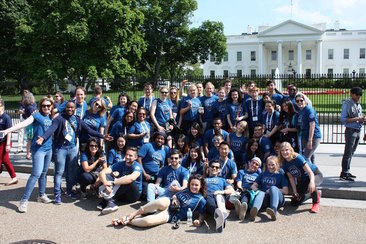 I-Lead (Intern Leadership Enrichment and Development program) is an all-expenses paid professional development program (of the U.S. Department of State) for J-1 visa interns.
" The accommodations were provided by the American University - it was a wonderful campus and a nice place to stay."
This program lasts six days, where interns have the opportunity to gain knowledge, give awareness of leadership roles and enhance their leadership and professional skills through workshops, seminars, training, meetings…etc. The interns are also able to participate in cultural tours and other learning opportunities. The curriculum is focused on leadership, entrepreneurship and community development. The goal of the program is to push interns to think in an innovative way in order to engage more in their internship and professional life.
60 delegates are selected from the J-1 intern program to participate. The program takes place in different areas and there is more than one event a year. This year, the iLead program took place between May 15th and May 20th 2016 in Washington, D.C.
During this program the participants really get to meet other international interns who also want to build leadership skills, who are eager to learn and develop more skills.
How to apply?
Are you interested? Apply here now for the I-Lead program happening in Seattle, Washington August 21-26 2016.
Applicants must be J-1 interns with internships beginning no later than August 1, 2016 and ending no sooner than September 2, 2016. Hurry! The due date is June 3rd. Finalists will be announced no later than June 27, 2016.
Here are some of Jonas Linke's pictures from his experience with I-LEAD: